18 Feb

Black History Month: The Men and Women Who Served

I hope everyone enjoyed all the snow last week. On February 25 at noon, we hope you join us for our next lunchbox lecture at the Bedford Welcome Center. Memorial President April Cheek-Messier will present about the historic USS

Sea Cloud

, a WWII Coast Guard cutter that proved not only the worth of African-American sailors and officers, but that whites and blacks would serve side by side. In December 1943, U.S. Coast Guard made history when the USS

Sea Cloud

embarked for weather patrol duty in the North Atlantic with the first completely integrated crew in U.S. history. This program is free to the public, though donations are welcome and appreciated. Bring your lunch and enjoy this wonderful look at our history. ~Felicia

~~~~~~~~~~~~~~~~~~~~~~~~~~~~~~~~~~~~~~~~~~~~~~~~~~~~~~~~~~~~~~~~~~~~~~
Working Together, World War II Propaganda Poster
Hello everyone!
In honor of Black History month, we here at the D-Day Memorial want draw attention to the brave men and women who not only went through a painstaking war, but had to break through racial barriers at the same time.
Technically, the United States Armed Forces did not desegregate until 1948, three years after wars end. However, World War II laid the groundwork for integrating both groups of people with a common purpose. At the time of Pearl Harbor (1941), only four thousand African-Americans served, by the end of the war, nearly 1.2 million troops had signed up, that includes thousands of women as well.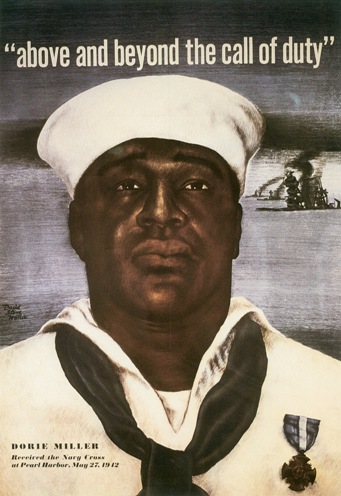 World War II Propaganda Poster
Of course, public opinion and practices influence military life, as with any other part of life. Units were segregated and often all-white units were picked over black units. It took the NAACP to get President Roosevelt to promise that the African American troops could enlist according to their percentage in the population, 10.6 percent. Even though that percentage was not obtained, the amount of influx in all branches of the military was noticeable.
Most African-Americans served in non-combatant units, such as maintenance and transportation. Their support was vital to the success of the war. The famous, "Red Ball Express", a supply train that brought millions of tons of supplies to the front lines, was run by an African American unit. Mid-way through the war, the amount of loss on the front lines forced the military to bring African Americans to the forefront and take combatant roles, such as infantrymen, pilots, tankers, officers, and medics. Even though these men served with honor and courage as any
American soldier had, they were still discriminated against even in war.
African American unit, World War II
Tuskegee Airmen, World War II
On the day of the Overlord invasion, 1,700 African American soldiers were part of the assault as an Anti-Aircraft Barrage Balloon Battalion and Quartermaster Service, as well as, tank units fighting through France with Patton's Third Army. They were responsible for the capture of thirty major towns in France, Belgium, and Germany.
Also, who could forget the Tuskegee Airmen? Three hundred thirty-two fighter pilots flew ground support missions in the southern portions of Europe. Nicknamed the "Redtails", the Tuskegee Airmen suffered sixty-six deaths and flew more than 15,000 sorties from May 1943 to June 1945.
Despite the segregation of the times, the men and women who served were more than courageous, their services and efforts towards the greater good of American society planted the necessary seeds for the Civil Rights movement and the injustice of racism in society.
Take care,
Elizabeth