04 Nov

Remember Veterans Day

Hello All,
Veterans Day is a week away and the Memorial is busy getting ready for the annual ceremony held at the eleventh hour, on the eleventh day, of the eleventh month. You won't want to miss out this year! Not only are we honoring our veterans, we are also dedicating the new Blue Star and Gold Star bricks.
As you may remember from last years Veterans Day post and ceremony, Veterans Day is extremely important to our country and it's legacy. It is a day to remember our Veteran's, past and present, living or deceased. It is a time to reflect on their sacrifices made for us and honor their bravery.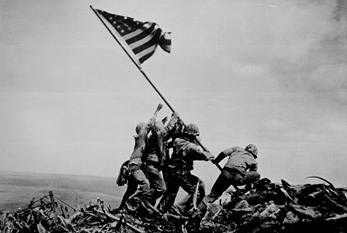 Raising the flag on Iwo Jima, 1945.
Unfortunately, many people have forgotten the importance of this day, even the fact that it is Veterans Day. It used to be a time of parades and public gatherings, and a brief break from work at 11 am to reflect. Now it is a time for people to take advantage of sales and a day off from work. We have forgotten how important our Veterans are to our safety. Without them, who would protect our nation? Who would be willing to travel to unfamiliar places to defend us from what we could not do ourselves? Who would be brave enough to do their duty despite the terrifying or horrible conditions they are subjected to? Our soldiers and veterans are those courageous individuals.
"The willingness of America's veterans to sacrifice for our country has earned them our lasting gratitude." – Jeff Miller
Some ways you, and your community, can honor your veterans is to participate in your local Veterans Day observances. Whether that is through a local war memorial or church organization, you could even organize a small gathering of your own. If you have children or grandchildren, teach them the importance of our Veterans and make sure they understand the magnitude of their sacrifices. Volunteering to help Veterans is also a wonderful way to show your support and care for our heroes. If you are joining the D-Day Memorial this coming Veterans Day, then bring a Veteran you may know, or bring your family. Once you are here, you can find out all the ways you can get involved in the Memorial.
Veterans Day Parade, New York City, 2011
Veterans will always be part of our society and culture. To treat them with anything other than respect would be criminal.
"The veterans of our military services have put their lives on the line to protect the freedoms that we enjoy. They have dedicated their lives to their country and deserve to be recognized for their commitment." – Judd Gregg
I hope you will join us on Tuesday, Nov. 11, at 11 am.
Take care,
Elizabeth