11 Nov

Luminary Project and D-Day Fallon




Veterans Day at the Memorial, 11/11/14
I hope you all have thanked numerous Veterans today! As John F. Kennedy said, "As we express our gratitude, we must never forget that the highest appreciation is not to utter words, but to live by them." I could not agree more with JFK; he is saying that we thank our soldiers for being valiant and courageous, but sometimes forget what that truly entails. Also, we should strive to exhibit the values we hold so dear. As a whole, we all need to remember that we can always do more and put our words into action. Since the holiday season is upon us, it is a great reminder of what we can do for others; a time to show our appreciation properly. There are many ways to get involved with the Memorial and in the community; all you have to do is ask.
Veterans Day Ceremony, 11/11/14
The next event coming up is our Luminary Project, held December 12-14, 2014, 6pm to 9pm. The Luminary Project honors the 4,413 men killed on D-Day. As evening approaches, the flames of memory come alive throughout the site, from the drive leading up to the Memorial, throughout the grounds, and interwoven in the Elmon T. Gray Plaza; each blazing luminary igniting the lamp of freedom.
My first luminary experience was last year, and let me tell you, it was both outstanding and haunting. It is one of those occasions that will put the loss of D-Day into raw perspective. Each light signifying a lost soul for the ultimate sacrifice that helped us win the war for the Allied nations. It is truly a site to see for all ages. I encourage and implore you to join us throughout the weekend; you will not regret one moment here.
Luminary night at the D-Day Memorial
If you would like to get more involved; Lumaries are sold throughout the year, even up to that week, and are displayed from December 12-14. Each luminary costs $20, or six for $100, and they can be purchased in honor or memory of anyone of your choosing, D-Day veteran or not. Remember, all proceeds benefit the Memorial and business or organizations are more than welcome to purchase quantities.
In honor of the Flames of Memory, I would like to share a little bit about one of the Fallon Bedford Boys, Nick Gillaspie.
~~~~~~~~~~~~~~~~~~~~~~~~~~~~~~~~~~~~~~~~~~~~~~~~~~~~~~~~~~~~~~~~~~~~~
D-Day Fallon: Nick N. Gillaspie
Company A, 116th IRB, 29th Infantry Division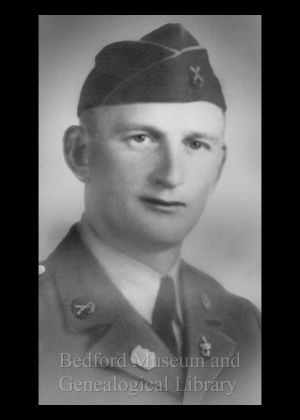 PFC Nick N. Gillaspie
Nick Gillaspie was another avid Baseball player among the Bedford Boys, along with Frank Draper and Elmere Wright. He grew up with four brothers and went to a one-room schoolhouse. He was known around Bedford for his impeccable manners and kindness, as well as his rook playing skills. His Rook skills came in handy on the Queen Mary's voyage over to England since the men had a lot of down time on the ship.
Games of any kind were important to the soldiers because it was the only way to pass the time. When they were given the chance to relax, but could not go on leave, many soldiers opt for card games, gambling games, or the book of games devised by the government. Pocket guides and game books were handed out regularly to help the soldiers pass the time and learn about the cultures they would eventually encounter.


Gillaspie is another member of the Bedford Boys we do not know much about, but we do know he was on the same LCA Wallace "Snake Eyes" Carter was on. Unfortunately, what we know of that particular LCA is that everyone perished early on in the beach landings. He has never been forgotten and never will be, just like all of our Bedford Boys.
I hope to see you all soon, take care!
Elizabeth