09 Dec

Flames of Memory/ Our D-Day Fallen: Private First Class Jack G. Powers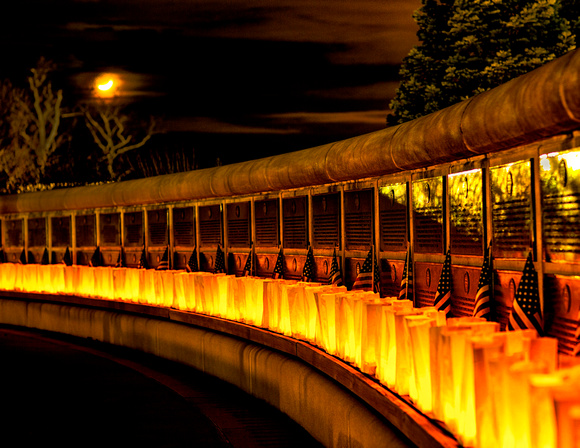 D-Day Luminaries. Picture provided by Mark East Photography
Three days from now the entire Memorial (and road leading up to the site) will be lined with luminaries for our "Flames of Memory" and "Christmas in Wartime" Events. Each light in honor of a D-Day fallen soldier, all 4,413 of them. Also, there will be luminaries dedicated by loving family members of their own fallen soldiers through various conflicts. It is a beautiful and moving reminder of the sacrifice and bravery of our Allied soldiers on one of the bloodiest invasions of World War II, as well as the brave men and women who have given their lives in service of their country. It would be a privilege for you all to come out to the site and support us and our heroes. December 12 through the 14th, 6 pm to 9pm, and the site will be open (free admission) to all those who want to pay their respects.
~~~~~~~~~~~~~~~~~~~~~~~~~~~~~~~~~~~~~~~~~~~~~~~~~~~~~~~~~~~~~~~

I would also like to take the opportunity to introduce you all to another of our D-Day Fallen, Private First Class Jack G. Powers. A loving and caring member of the Bedford Boys and community.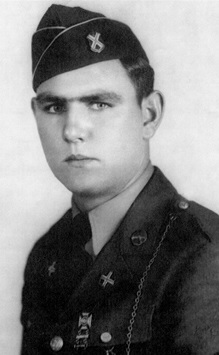 PFC Jack Powers
Jack Powers was an extremely lovable and caring man, recalled his sister Eloise. He and two of his brothers enlisted into the National Guard and were eager to set off on an adventure. At twenty-one years old, Jack and his brother, Clyde, stood on the train platform, while the band played, awaiting the train to New York.
Jack was a skilled musician and dancer. He practiced guitar daily and could jitterbug better than any man in town. Jack's uncle Harold Wilkes was also in formation on the platform. You could say it was a family affair. In fact, the Powers brothers' were one part of thirty-three sets of brothers who stormed the beaches on D-Day.
While in England, Powers received the rare honor of being chosen for the 29thDivision's Rangers, an elite combat unit, essentially the American version of the British Commandos. Company A was improving by leaps and bounds in England. Many of the men gained at least seven to ten pounds of muscle over the course of their training and many other talented soldiers were selected for advancement. 
Since Power's was promoted to the Rangers unit, that meant being separated from his friends and family. Even though he was excited and honored to be part of the elite group of men, he still missed his Company A family. When his Rangers unit was disbanded, Powers was upset that he had spent so much time training apart from them, but was eager to return. So eager in fact that he was considered AWOL for a bit and was stripped of his sergeant's stripes by Captain Fellers.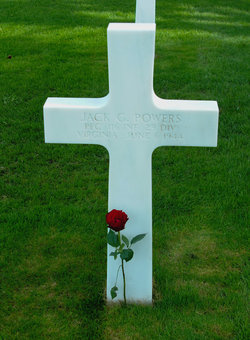 PFC Powers grave in Normandy.
When it came time to launch the invasion, Powers was very nervous and seemed distressed, which surprised some of the men because Jack always came across as level headed and calm. The ex-ranger was just as nervous as the rest of the men.
Powers did not make it through the invasion but his brother Clyde had. Like so many other sets of brothers, many lost one, if not all, of their family that day. Clyde was overcome with sadness at the loss of his brother but he had to continue on with his mission, just like so many others, including fellow Bedford Boy Roy Stevens, who lost his brother Ray. Each man dealt with his grief differently. Some took it out in their fighting, killing as much as possible, while others suffered in silence, frozen by sorrow. Clyde, in particular, suffered survivor's guilt at the loss of his dear brother.
I hope you all will be able to join us and I recommend bringing some tissues because you will be moved to tears.