12 May

VE Day and Armed Forces 5K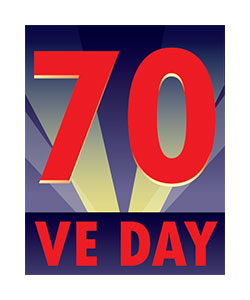 Hello All,
In honor of our recent celebration of the 70thAnniversary of the Victory in Europe (VE) Day, May 8th, and this coming weekend's commemoration of Armed Forces Day, I thought it would be appropriate to share a story I came across in the news about a 91 year old veteran who wanted to share a bit of his past with the youth of today.
Henry 'Duke' Boswell, 91, enlisted into the North Carolina National Guard in 1940, when he was the tender age of 16 years young. Clearly, Duke lied about his age to enlist, even going so far as to forge his parents' signature. One year later, war broke out in Europe, and Duke volunteered to be a paratrooper for the 82nd airborne division. Duke's life went from small town living to action packed and danger-filled in no time flat.
"We jumped in at midnight we were fighting until two days later before the troops on the beach got up to us," stated Duke. Duke was of course referring to the Normandy Invasion of 6 June 1944. He remembers being alone once landing on the ground and having to use his cricket to identify friend or foe. (A cricket was a metal devise that made a distinct clicking sound that resembled a cricket)
New York City citizens celebrating VE Day in Times Square
The next major battle Duke fought in was the Battle of the Bulge in the Ardennes Forest.
Duke says, "I think we probably lost more people to trench foot and frozen feet to the cold than we did to the enemy."
Through all the hardships and horrors Duke faced, he says the worst atrocity he witnessed was the German Concentration Camps. He often thinks about what those people could have done with their lives if they were given the chance to live.
Duke's wish is for everyone to remember the ones who fought and died to save the world we know today. We should always hold on to the memories of those who died to protect our freedoms we enjoy and hold dear, more now than ever before.
~~~~~~~~~~~~~~~~~~~~~~~~~~~~~~~~~~~~~~~~~~~~~~~~~~~~~~~~~~~~~~~~~~~~~~~~~~
Don't forget!!! This coming Saturday is the "We Honor Veterans" 5K Run/Walk Event to celebrate Armed Forces Day, May 16, 2015. The National D-Day Memorial and Centra-Bedford Hospice Care have come together to provide you with a fantastic morning of honoring our Veterans and enjoying the beautiful outdoors.
2014 "We Honor Veterans" 5K
Online registration, of only $25, will continue until this Friday evening, May 15 at 6 PM
Day of registration ($30) and Check-In beings at 7 AM and the Race will begin at 8 AM. The Start and Finish line is at the National D-Day Memorial- 3 Overlord Circle, Bedford, VA 24523
All proceeds will benefit veterans programs of Centra-Bedford Hospice Care and the National D-Day Memorial, both 501 (c)(3) nonprofit organizations. Individuals and teams are encouraged to sign-up and raise additional pledges to support the cause. Online registration is available at
http://bit.ly/1t9Y329
. For more information, please call the main office at (540) 586-3329 or visit our website at www.www.dday.org
I hope to see you all there!
Take Care,
Elizabeth