06 Sep

Remembering the Sacrifice of Virginia Tech Alumni on D-Day

Posted at 18:16h

in

#dday

,

#dday72

,

Corps of Cadets

,

D-Day

,

D-Day Memorial

,

Hokies

,

John Schenk

,

Normandy

,

Uncategorized

,

Virginia Tech

,

VT

,

WWII

0 Comments

Every year when school starts back, we eagerly await the arrival of over 360 first years from Virginia Tech's Corps of Cadets for their annual visit. It is always exciting to watch the next generation of servicemen and women learn about the valor, fidelity and sacrifice of those who served before them—especially considering the Virginia Tech and D-Day connection.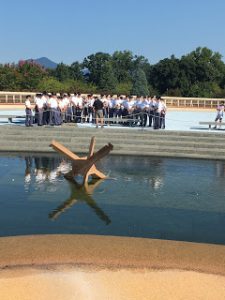 Virginia Tech (VT) was established in 1872 with agricultural and military training central to its mission. During World War II, not only did students serve but the campus was transformed into an active-duty military installation. In all, more than 7,000 VT alumni served in WWII, of whom 323 died in service to their country.
One of our Bedford Boys and D-Day fatalities, John Schenk, was a Business Administration major at Virginia Tech. You can read more about John's experience
here
. Throughout the first month or so of the invasion, VT lost 20 alumni in and around Normandy. There is a plaque just outside of the Memorial's Gray Plaza that memorializes VT's contribution to the D-Day Invasion.
Today, the Virginia Tech Corps of Cadets' mission is to nurture and create great leaders ready to pursue military careers or to enter the public and private sectors after graduation. This summer, many of the cadets went to Normandy and learned first-hand about the sacrifices made by those whose footsteps they are following. Read about their trip to Normandy
here
.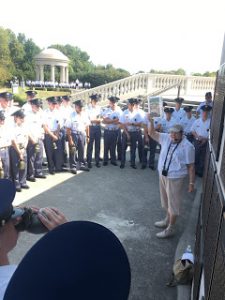 Thankfully, it was a mild morning for the 360 or so first year cadets to rotate through seven different stations at the Memorial. Many of our volunteers, and even one of our World War II veterans, come out year after year to lead a station and share about the valor, fidelity, and sacrifice of those who stormed the beaches on June 6, 1944 because it is inspiring to see young men and women who understand the importance of service to their country.
Check out the following news stories to hear more about the visit from the cadets themselves:
Until Next Time,
Maggie