02 Feb

The Treatment of Black Citizens and Civilians in the Range of Nazi Germany

Hello, Friends!

I'm excited to introduce a new contributor to our blog, Olivia. She is one of my spring interns and is working on her Masters of Art in History at Liberty University. Her primary field is Modern American Military History focusing on leadership in World War II and the Korean Conflict. Her work seeks to bring to light those leaders and subordinates whose impact is often overlooked or undervalued. She has also presented at several conferences and won an award for her work on the Japanese American Nisei Soldiers. I am very excited to have Olivia on board and hope you enjoy her post on treatment of African Americans in Nazi Germany!

-Maggie

__________________________________________________________________

The horrors afflicted by Nazi Germany from 1933 to 1945 are ingrained in the world's memory with the tragedy and loss still present in the minds of people around the globe. While the atrocities Nazi Germany afflicted on groups such as the Roma and Jewish communities are well known there are other groups, which also suffered at the hand of Nazi controlled Germany. One of these lesser-known groups the black and mulatto citizens of in reach of Nazi Germany.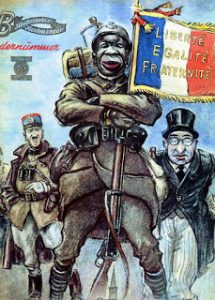 Before World War I there were not many black German citizens living in Germany. When Germany lost World War I the Treaty of Versailles stated Germany was so give up her colonies in land that is present day Tanzania, Rwanda, Burundi, Ghana, Togo, Cameroon, and Namibia. With the loss of these military outposts, military men and German colonial students, artisans, writers, and performers both white and black returned to Germany. Many military and colonial leaders also brought with them a system of deep racism and discrimination of black citizens. The Treaty of Versailles also stated troops were to occupy the Rhineland region of West Germany. The French assigned 200,00 soldiers both nationals and colonials to occupy the Rhineland. Racist propaganda groups in Germany quickly moved to compound the situation in order to spread racism and discrimination against blacks in the Rhineland and Germany. Propaganda viewed the black colonial French soldiers as rapist and carriers of disease. Other special interest groups blamed black soldiers for all of the unrest, rape, and murder of German women by the occupying forces, causing panic and uproar. This escalated and even resulted in Pope XV asking for the removal of black French troops and people writing to US President Woodrow Wilson demanding the removal of the black colonial troops. Even before Hitler's rise to power, discrimination began with forbidding black citizens from holding any type of government jobs or roles in the military. Interracial marriage was also banned in Germany and all of its holdings.
However, with the rise of Hitler's power in 1933 came wide spread persecution and further discrimination was implemented against blacks and mulattos living in Germany and the territories Hitler acquired. While there was never a program of systematic elimination, treatment of black citizens varied in levels of severity from discrimination and isolation to sterilization and medical experimentation. In Mein Kamph, Hitler stated that, "Jews had brought Negros into the Rhineland with the clear aim of running the hated while race by the necessarily-resulting bastardization." In this statement Hitler used the previous post World War I tensions to push the German people to accepted racism and discrimination.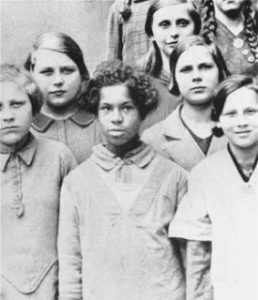 By 1937 the Germans decided something had to be done about the approximately 800 mixed raced children living in the Rhineland which Hitler deemed "an insult to the German Nation. Therefore, a committee created Commission Number 3, giving the German government power to start sterilizing mixed race children deemed "Rhineland Bastards". As many as 400 German African mulatto children were gathered and sterilized, many with out the parents knowledge beforehand. Hans Hauck was a teenager at the time this organization was commissioned and was serialized by the Nazis. Hauck recalled in the documentary, "Hitler's Forgotten Victims," he was serialized without anesthesia. Once his procedure was completed he was given a certificate validating his procedure and told to avoid sex with German women. At the same time women who were found pregnant with mixed babies were forced to have abortions.  At the same time, persecution was also happening to the small population of full black German citizens.
Under Hitler's rule all black citizens were banned from universities and in some cases the subjects of anthropological and medical studies, there were also cases of murder and abuse. Such is the case of Hilarius Gilges. Gilges was a 24-year-old native of Dusseldorf and an artist. In June of 1933 approximately a dozen SS officers attacked Gilges, captured, tortured, and killed the young man for his race identity and political affiliations. Today his life is memorialized in a plaza in Düsseldorf as the first marked death in Düsseldorf under the Nazi oppression. Others with similar stories are shared in published works such as Born to Witness: Growing Up Black in Nazi Germany, which tales the story of Hans Massaquoi who grew up during the War in Germany.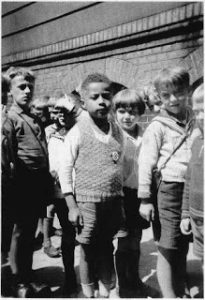 At the time Hitler and the Nazi's came to power there were approximately 25,000 black or mulatto citizens in Germany out of population of 65 million. Taking into account the low population proportion of black and mixed German citizens during Hitler's rule combined with the world wide level of accustomed prejudice and discrimination toward men and women with African heritage at the time it, is easy to see how the plight of those souls tortured and maimed by Nazi practices went unheard of for so many years. However, the policies of hatred and abuse toward those deemed "impure" or "a threat to the master race" practiced by Nazi Germany goes beyond the treatment of Roma, Jews, and Russians. The torment and pain Nazi Germany inflicted on the population of men, women, and children with African decent deserves to be told in shared with the same hope of never allowing such a travesty to occur in our lifetime and in future generations.
-Olivia