20 Feb

Presidents' Day: A Reflection on Dwight D. Eisenhower

Happy Presidents' Day!

Originally, Presidents' Day was established on February 22, for George Washington's birthday, in honor of his presidency. In the late 1960s, Congress passed the Uniform Monday Holiday Act in order to create more three-day weekends for the workforce. The official date, as the third Monday in February, was chosen to honor both George Washington and Abraham Lincoln, who was born on February 12. In 1971, President Richard Nixon implemented the official holiday. Today, we hold this day to honor all of our presidents past and present. Today, I want to reflect on a fundamental leader for the D-Day invasion and President, Dwight D. Eisenhower.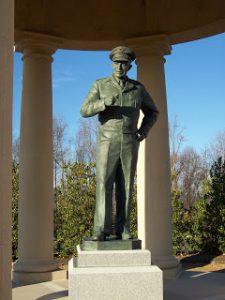 Supreme Commander of the Allied Expeditionary Forces, Chief of Staff of the Army, President of Columbia University, and President of the United States, Dwight D. Eisenhower held many accomplishments, which reflected his exceptional influence and character. We hold his sculpture here at the D-Day Memorial in honor of his courageous leadership in the preparation and invasion on June 6, 1944. In this reflection on President Eisenhower, I want to highlight his characteristics, which made "Ike" a humble and true leader.
David and Ida Eisenhower nicknamed all seven of their sons either "Big Ike" or "Little Ike." Dwight D. Eisenhower was born on October 14, 1890 in Denison, Texas. When his father found a job at the Belle Springs Creamery, the family moved to Abilene, Kansas, where Eisenhower spent his childhood. An all-around, hardworking student, Ike enjoyed the outdoors, such as hunting and fishing, and playing baseball and football. He was known as a superb poker player, in which he developed skills of observation and assessed the other player's mannerisms. From 1909 to 1911, he worked at the Belle Springs Creamery (produced ice, cheese, butter, and ice cream), with his father and uncle, in order to pay for his older brother, Edgar's college tuition at the University of Michigan.
In 1911, Ike won an appointment to the U.S. Military Academy at West Point, where he placed 2nd out of 8 candidates on the examinations. While at West Point, he continued to play baseball and football. He almost was discharged from West Point due to a serious leg injury playing football and by injuring his leg, riding horseback. The chairman of the board overrode the ruling and allowed Ike to continue at West Point. He graduated 61st out of 164, and after became a 2nd Lieutenant at Fort Sam Houston in Texas, where he trained recruits for WWI. Also, he worked for the first Army Transcontinental Motor Convey, the Tank Corps, and the Battle Monuments Commission. By the Second World War, these experiences made Eisenhower an exceptional and recognizable leader.
Dwight D. Eisenhower's most prominent position came when he was named Supreme Commander of Operation Overlord, the largest amphibious assault in American history. From his success in the North African and Italian campaigns to his leadership in the Philippines and Far East Section of the War Plans Division, Eisenhower proved an exceptional leader. This led to his appointment as Supreme Commander, given and approved by Chief of Staff, George C. Marshall.
During preparations for the D-Day invasion, Eisenhower spent a considerable amount of time in the field talking to thousands of soldiers during their training sessions in England. He spoke to each solider as an individual, which boosted morale among the ordinary soldiers. He stated, "Morale is the greatest single factor in successful war." from Crusade in Europe, pg. 210.
In my opinion, Eisenhower's "Order of the Day" solidified the objective for the D-Day invasion by identifying the terms of bravery and victory. Here is the video below of his "Order of the Day": 

The invasion was scheduled for June 5, 1944, but due to storms, the invasion was delayed to June 6, 1944. Eisenhower though, wrote in a letter on June 5 (actually dated July 5, we can understand the mistake, he had a lot to handle this day), Eisenhower accepted the blame if the Normandy invasion failed. He wrote, "My decision to attack at this time and place was based upon the best information available. The troops, the air, and the Navy did all that bravery and devotion to duty could do. If any blame or fault attaches to the attempt it is mine alone." The Allies were victorious on D-Day and secured close to 850,000 men by the end of June in Normandy, France.
He returned home as Chief of Staff for the Army, and served as President of Columbia University from 1948-1953. His experience and heroic leadership in the eyes of fellow Americans made him a successful Republican candidate for President in 1952. He ran against Democrat, Adlai Stevenson, and won the electoral vote 442 to 89. Even though historians debate the overall success of his presidency, Eisenhower led the nation for two terms, 1953-1961, and had many substantial accomplishments. Listed below just name a few:
Established the First Interstate Highway System in 1956
Secured Civil Rights legislation
Sent Federal troops to Little Rock, Arkansas during integration of Little Rock Central High School in 1957
Agreed to an armistice, which ended fighting in the Korean Conflict
"Waged-peace" in order to solidify U.S. and Soviet relations
Emphasized nuclear strength during the Cold War
He stated on January 21, 1953: "My first day at the President's Desk. Plenty of worries and difficult problems. But such has been my portion for a long time – the result is that this just seems (today) like a continuation of all I've been doing since July '41 – even before that!" 
We honor and recognize Ike for his humble and courageous way of leadership during the largest amphibious assault, which changed the course of history. We honor his leadership as President and cannot forget the crucial role he made in the lives of not only the soldiers, but for future generations. From his roots in Abilene, Kansas to the most prestigious role as President of the United States,Ike stated in his homecoming speech in 1945: "The proudest thing I can claim is that I am from Abilene."
After suffering from two major attacks, Eisenhower died on April 2, 1969 at the Walter Reed Army Hospital in D.C. due to suffering from two major heart attacks in 1965 and 1968. He is buried at the Eisenhower Center in Abilene, Kansas.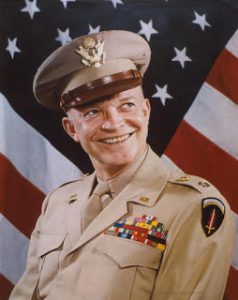 -Lindsay
Resources:
Stephen Ambrose, The Victors: Eisenhower and His Boys: The Men of World War II 
Eisenhower Presidential Library, eisenhower.arhives.gov
Stephen Ambrose, Supreme Commander: The War Years of Dwight D. Eisenhower