15 Mar

An Unsung Hero of World War II: Jacqueline Cochran

Discussions of the American women who participated in World War II has a tendency to revolve around the Women's Army Corps (WACs), Women's Nurse Corps, or of the thousands of women who worked in defense plants all across the country, who had picked up where their husbands, sons, and fathers had left off. While most people have basic understandings of women's participation in the Navy via the WAVES and in the Air Corps via the WASPS during World War II, less is known about the women who started it all – the women who paved the way for female service in the United States military.

For this Women's History Month, it is important to pay tribute to the women who opened the door to and began conversations about women's involvement, treatment, and equality in the United States. When thinking of the World War II generation of women who had a great influence on our position in society today, my thoughts ran to Eleanor Roosevelt and the many Rosie the Riveters. However, this post is dedicated to all the unsung heroes, such as the lovely Jacqueline (Jackie) Cochran, who not only was a founder of the Women's Army Service Pilots (WASPs) during World War II, but also helped normalize women in aviation in America. Jackie Cochran's story is lesser known and for someone who was instrumental in American aviation and military history, she deserves to be recognized on this platform and many others.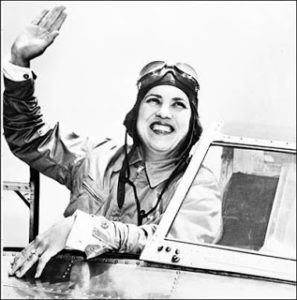 Jacqueline Cochran was born May 11, 1906 in Florida. Soon an orphan, Jackie spent much of her childhood living with a foster family and grew up in poverty. As a teenager, Jackie began training to be a beautician, and as a young adult, made her way up the social ladder while residing in New York City and working in a prestigious salon on Saks Fifth Avenue. In 1932, Jackie married millionaire financier Floyd Odlum, which provided her the means and supported her in pursing other interests, such as taking flying lessons. In her 1953 autobiography, Jackie stated that, "at that moment, when I paid for my first lesson, a beauty operator ceased to exist and an aviator was born."
By the time World War II broke out in 1939 in Europe, Jackie had already established herself within the aviation community, having set and broke various flying records. Believing that she and other female pilots could put their passion and skill to good use serving their country, Jackie appealed to First Lady Eleanor Roosevelt to create a "squadron of female pilots…who [in the eventual U.S. involvement in the conflict] could fly military aircraft on support missions, releasing men for combat duty." However, it was not until 1941 and 1942 did Jackie see her dream of flying for the military come to fruition. After being inspired by the female pilot squadrons utilized in England, Jackie returned to America and with the blessing of President Roosevelt, "hand-picked 25 American women recruits" to implement female aviation into the U.S. Army Air Corps by ferrying planes. After their success, Jackie was asked to organize a program for training women pilots in the United States. In 1943, Cochran's program became known as the Women's Air Force Service Pilots (WASPs).
The WASPs boasted impeccable flying records, and in "January 1944, the War Department announced that the Army Air Forces women's fatal and non-fatal accident rates were lower than the men's." Cochran and the WASPs continued to train and fly non-combative missions for several months more, but the end of 1944 and the turn of the war in the Allies' favor deemed the WASPs' service obsolete and unnecessary. Jackie hoped that Congress would make the WASPs an official branch of the U.S. military, but this dream was not to be. The WASPs were grounded and absolved on December 20, 1944.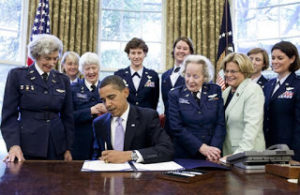 Jackie's flying career did not end with the disbandment of her creation, the WASPs. After the war, she continued to fly and break more records. She competed in many races, such as the Bendix Race, "coming in second with a time of four hours and 52 minutes." Moreover, the 1950s saw further aviation accomplishments for Jackie, including record speeds for "propeller driven aircraft" and becoming the "first woman to break the sound barrier." Jackie continued to derive passion for flying until her health and her husband's death began to inhibit her career. After Floyd died in 1976, Jackie, who was aged 70 at the time, saw her health deteriorate further, and she passed away on August 9, 1980. Jacqueline Cochran loved flying until the day she died, and was instrumental in creating more roles for women in not only the U.S. Air Force, but within the aviation community as a whole. If Jackie had been alive in 2009, it would have pleased her immensely to witness President Obama sign the bill that awarded Congressional Gold Medals to veterans of the WASPs.
-Meika