14 Oct

Ike's Birthday Through The Years
Born 127 years ago today on October 14, 1890, we celebrate the life and legacy of Dwight David Eisenhower by looking at how he celebrated his birthday during his presidency, and how it is celebrated today.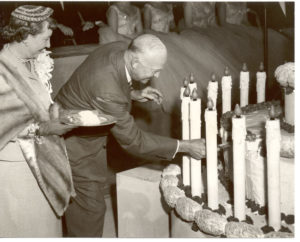 In 1953, Eisenhower's first birthday at President of the United States was celebrated in a grand way in Hershey, Pennsylvania as a fundraiser for the Pennsylvania Republican Party. Close to 14,000 people attended his birthday celebration which was held in three different locations, including a big top tent from Barnum and Bailey. The decorations included a seven-tier cake, with fruits and vegetables local to the Pennsylvania community. On the lower part of the arena, Eisenhower and Mamie sat at their own private table, and enjoyed the chorus of thousands of people singing "Happy Birthday." Read more about Eisenhower's 63rd birthday party here.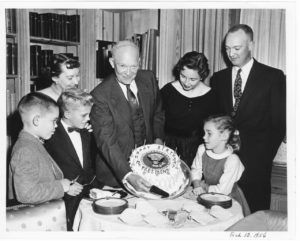 For his 66th birthday, the Eisenhower's chose to celebrate with family at the White House with the election only weeks away in 1956.
In 1957 after his re-election as President, Eisenhower chose to focus on the theme of progress at his birthday celebration to benefit the San Francisco Regional Republican Committee at the Cow Palace in San Francisco:
"A birthday seems to induce a man to look backward into time-and forward into the future. Now, I shall bore you with neither personal memories nor prophesies, but I would like to recall to you a few facts of America in 1890, the year I was born, so that you may contrast them with similar features of American life today."
He then went on to describe the progress that America had made in the 67 years since the year of his birth. You can read the entirety of his remarks here.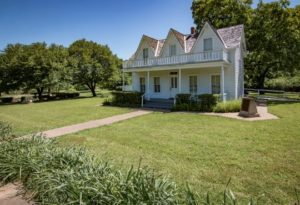 Today, Eisenhower's birthday is celebrated annually in Dension, Texas at the Eisenhower Birthplace Historic Site. The town hosts a myriad of events including a 5K run, meet and greet sessions with WWII veterans, and brick dedications. Also, the Liberty jump teams parachute from a Douglas C-47 Skytrain.
Although Ike came from a humble background, he had many accomplishments throughout his life, which reflected his exceptional leadership and character. Eisenhower's impressive record holds titles such as, Supreme Commander of the Allied Expeditionary Forces, Chief of Staff of the Army, President of Columbia University, President of the North Atlantic Treaty Organization, and 34th President of the United States. Here's to celebrating the life and legacy of Dwight David Eisenhower on his 127th Birthday!