28 Nov

Our D-Day Fallen: James Foster

Each December, the National D-Day Memorial takes time to pay tribute to D-Day's fallen through a moving event, Flames of Memory and Christmas in Wartime Presentation, and continuing the "Our D-Day Fallen" blog series.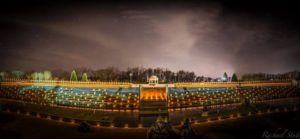 Make plans to join us December 8-10, 2017 from 6-9pm for Flames of Memory and Christmas in Wartime Presentation. As twilight deepens and obscures the Blue Ridge, the Memorial will honor the 4,413 men killed on D-Day. Arranged throughout the Memorial, thousands of luminaries will shine in recognition of Overlord's fallen and in tribute to the ultimate sacrifice each made to relight the lamp of freedom. For more information or to purchase a luminary, visit www.www.dday.org.
One of the 4,413 fatalities on June 6, 1944 was James Foster of Waynesboro, Virginia. James was killed as he exited his landing craft wading ashore at Omaha Beach on June 6, 1944. He was a member of the 379th Anti-Aircraft Artillery Brigade. His Elgin watch, seen below, may just seem like an average wrist watch.  But in reality, it is much more than that. It is believed that Foster's watch stopped at the exact time of his death on D-Day.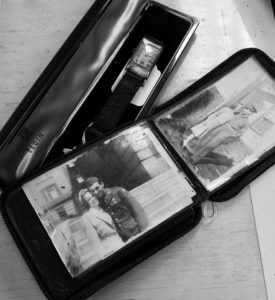 Foster was originally reported as Missing in Action by the War Department in a telegram to his wife, Margaret, on June 21, 1944. Less than a month later on July 19, 1944, Margaret received another telegram notifying her that James was now reported as Killed in Action on June 6, 1944 as a part of the invasion of Normandy, France.
His personal effects, including the watch, were returned to Margaret in March of 1945. A leather billfold was also returned and contained a number of photos of his wife and personal papers, such as his draft card and Virginia driver's license. Many of the photos and papers in his wallet had water damage.
Foster's body was brought home after the war and his final resting place is Riverview Cemetery in his hometown of Waynesboro.