08 Dec

The Significance of Flames of Memory

On the weekend of December 8-10, each night from 6-9 p.m., as twilight deepens and obscures the Blue Ridge, the Memorial will honor the 4,413 Allied service members killed on D-Day. Arranged throughout the Memorial, thousands of luminaries will shine in recognition of Overlord's fallen and in tribute to the ultimate sacrifice each made to relight the lamp of freedom.

In order to prepare for the event, the National D-Day Memorial volunteers and staff work diligently to assemble and place each of the 4,413 luminaries. Below is a collection of their perspectives on the significance of this event and why they participate in the set-up.
---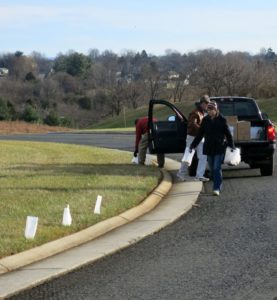 "To me it's one of our most sacred projects. When we're placing the luminaries within the grounds I realize it's more important than just a lighted display. Each luminary represents the life of a young person that sacrificed his life for Operation Overlord that day. I'm very careful with them. I feel very humble doing it."
-Bill Rhodes, Volunteer, National D-Day Memorial
"For me, [this event] is important because it gives perspective. You hear the number of 4,413 and you don't really have a grasp on that until you start seeing them. Placing all the luminaries feels like a daunting never-ending task that takes a group of people hours to do. Then you take a step back and realize each one represents a life that was given for you and your freedom."
-Emily Van Fleet, Development Services and Database Coordinator, National D-Day Memorial
"Looking out the back window of the Bedford Welcome Center, the vision of the luminaries following the road leading to the D-Day Memorial is a beautiful and sobering sight.  As we explain to visitors the story behind this display it brings tears and smiles at the beauty of the display but more important, they are overwhelmed by the sheer number of luminaries.  It gives the children an idea of the magnitude of the dead and is such a visual of the honor we owe to those heroes.  Almost every one of the visitors at our building, especially those who had not considered going to see the luminaries, make their way up to see the whole sight.  May the D-Day heroes never be forgotten!"
-Judi Jackson, Volunteer, National D-Day Memorial and Bedford Welcome Center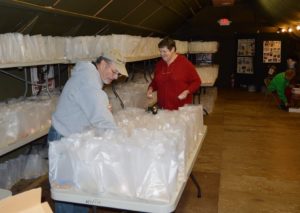 "I have helped with the luminaries to ensure the memory of the 4,413 servicemen killed on D-Day are not forgotten. This is not a chore, but an honor to assist with the luminaries program. Also, I assist to honor one of my uncles who entered WW11 on the beaches of Normandy."
-Bill Blevins, Volunteer, National D-Day Memorial
"Luminary weekend is a beautiful yet sobering event.  As I pack the bags, I am reminded of the sacrifices made by those brave young men."
-Sandra Parece, Assistant Site Manager, National D-Day Memorial
"It shows the number of people who were killed on D-Day. It's a good tribute to those men."
-Bill Jackson, Volunteer, National D-Day Memorial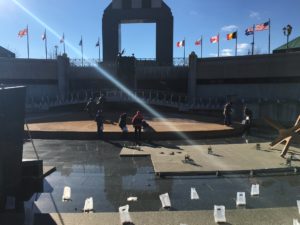 "One thing we started doing with this event about three years ago is adding 36 tea lights inside of the landing craft on the beach tableau to represent the boat's capacity for soldiers. Last year while I placed the lights within the landing craft, I was reminded of the fact that many men, some as young as 15 years old, who boarded one of these boats and never made it to the shores of Normandy, France. Each aspect of this event is a moving tribute to each of the 4,413 servicemen who lost their lives on June 6, 1944."
-Maggie Mitchell, Associate Director for Programming and Events, National D-Day Memorial
"After doing this for several years in freezing temps, I am still awestruck when I look around and think that each light represents one of 4413 young men whose future potential was never realized. With the water out of the pool, I get a behind the scene look at the 'Death on Shore' sculpture. I can see the letters coming out of the knapsack, usually unseen from the bridge. I am reminded to mention on tour Raymond Hoback's knapsack contents as the Bible his mother gave him for 1938's Christmas and those letters to and from home – precious contents to be sure."
-Twila Ross, Volunteer, National D-Day Memorial
"My first week working at the Memorial was during our luminaries event last year. As I placed each luminary in the center plaza, with the plaques of the Allied soldiers' names who died on June 6th, I was reminded of ultimate sacrifice and the significance of D-Day. An identity, a personality, a soul is represented with each light."
-Lindsay Poling, Volunteer Coordinator, National D-Day Memorial