25 Jun

Fine Feathered Heroes of WWII

The Feathered Fighters of WWII

A book recently donated to the Memorial's research library reminds us that not every hero who flew in WWII earned his or her wings. Some were born with them.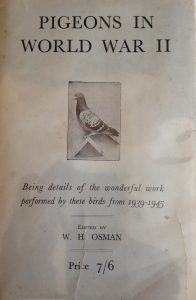 It's not a well-known story, but birds were an important part of the war effort for both the Allies and Axis. In a day when radio communication was unpredictable and easily intercepted, carrier pigeons were an important source of information and valuable tool for intelligence gathering. It was not a new idea by any means: it is said that Hannibal employed carrier pigeons as far back as the Punic Wars.
The British, a nation of pigeon-fanciers, probably led the league in the use of avian troops. The book "Pigeons in WWII: Being Details of the Wonderful Work Performed by these Birds from 1939-45" by W. H. Osman chronicles the history of the UK's Army Pigeon Service, and includes a detailed listing of hundreds of birds and every mission they flew.
A pre-war civilian breeding organization known as the National Pigeon Service quickly embraced the concept of militarizing their birds in 1939, and supplied thousands over the course of the war. The American signal corps also utilized pigeon messengers; on the enemy side, the Germans enthusiastically embraced the idea (Heinrich Himmler, an avid pigeon hobbyist, was especially keen on the idea).
Trained homing pigeons were utilized in a variety of ways by the Allies. In addition to carrying messages to and from the battlefields, they were used to communicate with intelligence operatives in the field, to send photos or maps of German defenses, or to confirm the location of a particular unit. In at least one incident, a downed flight crew was rescued from the English Channel after sending an SOS by pigeon. At one point, British intelligence dropped some 16,500 pigeons by parachute over France, each with a questionnaire to be filled out by the finder. Only 1,842 were returned, but the intelligence gathered was considered well worth the cost. Still, it gives you pause. How many other units in WWII can you cite that suffered nearly 90% losses?
Some of the first reports of the D-Day landings got to England due to the valiant five-hour cross-channel flight of Gustav, a Grizzle Cock, National Pigeon Service No. 42.31066. His message (from a Reuters correspondent, reporting a safe landing in France) arrived at a time when only confused and fragmentary information had been thus far received. "During his two years of RAF service Gustav had built up a reputation for reliability." noted Osman, with typical British understatement. Indeed, Gustav was one of few birds to receive the prestigious Dickin Medal during the war—a high honor for a pigeon. Think about it: of the most heroic, most celebrated, most highly decorated soldiers of World War II, not a single one of them won a Dickin Medal like Gustav did. None were even nominated.
Pigeon Service was, of course, a dangerous occupation, in part because other birds filled the skies as well. Both the Allies and the Germans also employed Falcon Brigades—squadrons of peregrine falcons to target enemy pigeons. How the falcons could distinguish between friendly bird and foe is not clear, but they seemed to have been used to appreciable effect. At least two German carrier pigeons were downed by falcons and captured alive, their messages intercepted. Then, in the ultimate example of "turning" an enemy spy, the two Germans were put to work breeding loyal British birds.
Would the Allies have won the War without the help of pigeons and falcons? Sure. But each successful flight made victory a tiny bit closer and a tiny bit easier. We honor the valor, fidelity, and sacrifice of the Allied fighting men of D-Day every day at the Memorial. Once in a while it's worth looking skyward and remembering that at least a little bit of the credit for victory goes to a faithful team of fighters with plumage.