21 Sep

One Gold Star Mother's Story

It's called an IDPF—Individual Deceased Personnel File. Unlike a service record, which preserves what a member of the American military did while living, the IDPF records what happens once a person has died in uniform. It records basic biographical information and some of the facts of the person's death; as well as how the remains were identified, where the body was buried, and any correspondence related to the matter.

Each IDPF—and there were hundreds of thousands in WWII—reveals a tragedy. Some are limited to bare-boned factual info, but others reveal more of the pathos involved in the death of a loved one, usually one who was far too young to die. This is the case with the IDPF of PFC Thomas P. Saccone, Co. H, 508th Parachute Infantry Regiment, 82nd Airborne. A story of grief and denial, of uncertainty and eventual resolution emerges from the small collection of documents. Allow us to tell the story of the Saccone family, in honor of Thomas, and all those who paid the ultimate sacrifice. And in tribute to the Gold Star families they left behind.

Thomas Saccone was born on July 22, 1922 and resided in New York City; his parents were Paul and Angelina Saccone of Broome Street in that city. When Thomas enlisted in the paratroopers, his parents certainly felt a measure of pride and apprehension. War is dangerous business; jumping out of airplanes into combat adds even more danger. Little could any of the Saccones know what awaited Thomas: the largest air, sea and land invasion in history. After extensive training, Thomas leapt from his C-47 over France on June 6, 1944. No record survives to say exactly what happened.

But he did not live through D-Day.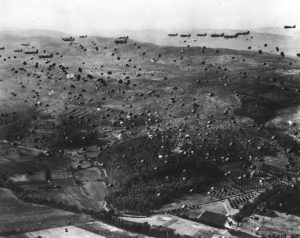 For his parents at home, hearing news of the invasion must have caused great anxiety. The news would report that paratroops were used; was Thomas among them? Days and then weeks passed with no word from or about Thomas. Such uncertainty was painful, but expected.
On July 20th, the Saccones received the telegram all families on the home front dreaded. It stated that Thomas was missing in action since June 6. MIA—that wasn't the worst news. The very term encouraged a sliver of hope. Everyone had heard a story of a MIA being reported safe and sound, baffled by the paperwork snafu. Or found alive, but a POW somewhere.
But then, only five days later, another telegram arrived stating that Thomas had, in fact, been killed in action on June 23rd.
For the grieving mother, these telegrams represented confusion; they provided no closure, no certainty. Angelina must have pondered: what had happened between June 6 and the 23rd? Thomas was missing in action…then presumably located and put back into action, only to be killed on the 23rd. Was there an error in the initial report? And if so, why couldn't there be an error in the later one as well? Was Thomas really dead? Her hesitancy to believe the worst was common for Gold Star mothers, trying to process the unfathomable blow of such telegrams.
The process of receiving information regarding a loved one's death in uniform was frustratingly slow in World War II. By the time survivors were notified, typically weeks had passed. Further, official communiques seldom provided all the information a grieving parent or spouse desired. Think of what you would like to know about a son's/husband's/brother's death in battle. Did he suffer? Was he brave in facing death? Did his death accomplish anything—saving another man's life, achieving an objective to great military advantage? Was there a chaplain to comfort him or a medic to try to treat his wounds and ease his pain? Did he, like so many wounded men, call out for his mother with his last breath?
Such details could seldom be known, and if known, weren't reflected in the official record.
On August 22, Mrs. Saccone wrote to someone (the IDPF doesn't record the recipient) to request more information. Her letter is a poignant glimpse into crushing grief and perhaps some measure of denial.
"I have waited patiently until now for some definitive news of my son, but to no avail…as a mother, I demand to know more. I want to know if his body was found, if he was buried properly, and also if any of his belongings have been found. Surely, I'm entitled to know all these facts about my son. I am very ill, and in my home we have not had any peace of mind."
It's unclear if there was a response to this August 22 letter. But by November, word had reached the Saccones that the death date for Thomas had been revised. He had not died on June 23rd; he had in fact died on D-Day, June 6. As you might imagine, this did little to put Angelina's mind at ease. Did anyone really know what had happened?
Mrs. Saccone wrote again on November 30th: "I have no definite proof that my son was killed. I wasn't told if his body was found, if he was buried properly, and I also have not gotten any of his personal belongings. Please let me know if his body has been found, and where he is buried."
The modern reader's heart breaks at her desperate (and completely understandable) pleas. But for the soldiers serving in the office of the army's Quartermaster General, such emotional appeals were routine. Hundreds of mothers wrote with similar concerns and fading hopes that it was all a big mistake. But an army fighting a desperate war could not spare much room for sentiment. Letters like Mrs. Saccone's could not be ignored, but nor could the QM Corps act as therapist. Sixteen million men and women were serving in the military. Tens of thousands were being killed each year. It is not callous to say that Thomas Saccone was only one of many—it simply reflects the realities of war.
On January 3, 1945, Colonel E. C. Gault of the Adjutant General's Department replied to Mrs. Saccone's letter. As gently as he could, Col. Gault informed the grief-stricken mother that there had been no mistake. "Military authorities in theaters of operation are instructed to submit reports of death only in cases in which circumstances leave no doubt that death has occurred.," he informed her. "I regret that no further details concerning his death were furnished."
A follow-up letter a week later informed the grieving parents that Thomas had been reverently buried with a Catholic ceremony in Blosville, France, his grave suitably marked. The officer writing, however, could give no information about any personal effects.
Even this gave Angelina no closure. She could not leave it there, not while there was some hope—some tiny, remote hope—of an error. She continued to seek information. Dissatisfied with the military authorities, she next went to one of New York's senators, James Mead. In a letter dated February 6, 1945, she told the senator:
"From the very beginning I have not been able to understand anything…I can't understand what this is all about. I haven't received anything giving me definite proof. In fact, I as a mother do not believe my son is dead…if you can find something definite it will help ease my mind…I plead with you to help me in my time of need."
Senator Mead's office, also accustomed to such requests, made the appropriate requests to military authorities. The Casualty Branch of the Adjutant General's office replied to the Senator a month later. There was no doubt, they reported. Thomas Saccone had indeed been killed on June 6th, despite the earlier error in date. His remains had been identified, and were buried in a marked grave in France. "It would be gratifying indeed to be able to encourage the bereaved mother of Private Saccone in her hope that he still survives. However…you have my assurance that…no official reports of death are forwarded unless the evidence is considered to be conclusive."
The correspondence in the IDPF ends there. We have no record to reveal how Mrs. Saccone bore the news; when realization finally gave way to acceptance; how she processed the inevitable grief. Most of us can only imagine. Only a mother who has had to endure such a loss could possibly understand.
However, it seems the mourning parents came to accept the reality of Thomas' death. Beginning in 1947, the US military gave Gold Star families the option of bringing home the remains of lost heroes, to be buried under familiar soil, where the grave could be seen and closure could be finally found. Paul Saccone arranged for Thomas to come home, and he was buried in April of 1948 in St. John Cemetery, Middle Village, Queens (today that historic cemetery is known as the resting place of many luminaries, including Mario Cuomo, Geraldine Ferraro, and famed bodybuilder Charles Atlas, as well as several notorious organized crime figures).
Angelina Saccone joined her son there in 1966; Paul two years later. Near the ashes of their beloved, heroic son, they finally found peace.
At the National D-Day Memorial, Thomas Saccone's name can be found on Plaque W-110, alongside those of 2501 American brothers-in-arms who died the same day. We can never forget that for the majority of them, a heartbroken Gold Star Mother, a grieving widow, or other loved ones in mourning were left to carry on. Their grief is part of our nation's story as well.