16 Dec

Christmas in Wartime: Santa in Olive Drab

The majority of American soldiers, sailors, airmen, marines and coastguardsmen in WWII identified as Christian, mainly Protestant or Catholic with Orthodox, Mormon or other varieties as well—in other words, people for whom December 25 was a particularly important day. For them, Christmas was a sacred day, and one associated with family, friends, food, presents, celebration. Even those military personnel of other faiths, such as Judaism, or those of no faith at all, considered the time around December 25th a special time in normal years. But these were anything but normal years. How could men and women in uniform celebrate the Holidays?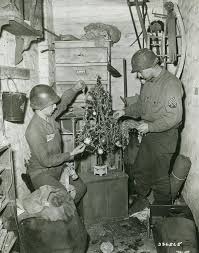 The first thing to understand is that the war did not stop for Christmas. In World War I, there was the famous 1914 Christmas Truce, when both sides spontaneously decided in places to stop fighting and even meet each other between the trenches to commemorate the day. Nothing like this happened in World War II, although here and there fighting may have slowed down. This meant that men at the front, in North Africa, Europe or the Pacific, at sea or in the air, all had a job to do regardless of the date—fight the enemy.
Still, there was an overwhelming desire to mark the occasion of Christmas, and for morale purposes every expectation that those in uniform should have the opportunity somehow. How you celebrated Christmas in WWII depended largely on where you were. If you were one of the lucky few stationed in the US and able to get leave, you might actually be home for Christmas. But the vast majority had to keep the season with comrades in arms wherever they happened to be come December.
Men on bases, aboard ships, or in hospitals typically got some form of holiday party and meal. The food was probably not as good as mom's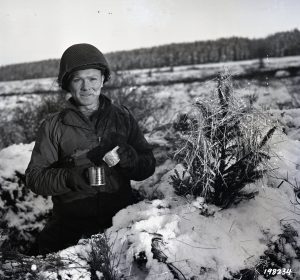 at home, but it was better than the usual fare in quantity, quality and variety. Turkey was almost universal in these celebrations. On the homefront, families in places had to make do with chicken instead of turkey, since so many gobblers had been purchased for those in uniform. There may well be gifts exchanged, musical performances, and church services for the occasion. In these places of relative security, men were homesick and nostalgic, but Christmas was memorable and pleasant.
At the front, it was probably another story. Men keeping watch in foxholes or tanks couldn't pause in the same fashion. Still, the military was determined to make the day as special as possible—it would be an extreme blow to morale if Christmas were completely ignored. And so efforts were made to bring a hot meal—an extravagance in winter—to the front, and give the men a well-earned break when possible. It didn't always work—sometimes the meal came early, or late, or never could be delivered, but for those who got it on Christmas day it was a rare treat
and a reminder of life at home. Bob Slaughter, the founder of the National D-Day Memorial, recalled Christmas 1944 in his book "Omaha Beach and Beyond:"
I spent my third Christmas overseas in Germany's Roer River Valley. As Christmas drew near, the 29th Division Headquarters was making plans for a proper turkey feast for the troops. Before and after the holiday, 29th soldiers were rotated from frontline duty over two or three days. It was a welcome Christmas present.
One very cold afternoon, 1st Battalion was trucked a couple of miles behind our post at the front. Two or three inches of fresh snow lay on the ground. D Company de-trucked in a sparsely wooded area about five miles behind the frontline. The kitchen trucks were already in place and the cooks were ready to serve up the food. There was also alcohol: Uncle Charlie found out IX Army had liberated a gin distillery at Steinhagen, and he made sure we had an ample supply of schnapps and gin to complement our feast.
The Christmas dinner was served buffet-style, which in the army means one big pile of food. Two thick slices of turkey, topped with a heaping spoonful of mashed potatoes and giblet gravy, peas on top of that, candied yams on top of that, and a slice of pumpkin pie thrown on top of the whole mess… I sat on a tree stump and ate my pile of Christmas dinner. After eating, we all popped the corks and took big slugs of schnapps and chased it with gin. It didn't take long for the liquor to do what it does to most people.
Many men in Europe cut evergreen trees and decorated them with what they could find—often tin foil if nothing else. In the Pacific the tree may have been tropical, but it still inspired a few carols. Santa made visits when he could. He looked much younger and skinnier than before the war, and his beard looked suspiciously like cotton balls from med kits. But he was there, to cheer lonely and homesick boys, who could only hope that the next year they'd be home to celebrate.
Even in POW camps, December 25th was a day to set aside as best you could. Prisoners in Europe put up trees, swapped small gifts, sang carols, and held services. In the Pacific, POWs had a harder time, but still kept Christmas with thoughts of home in their minds. Where possible, the beloved Red Cross packages stuffed with food and soap made Christmas at least a touch merrier.
One important means of marking the holiday was by mail. Christmas letters or cards had to be mailed in early November to have any hope of reaching their target by Christmas, but whenever they were received they raised spirits. Sometimes servicemen or -women could receive gifts as well—a box of cookies or candies were especially welcome, or for men in frigid 1944 Europe socks, scarves, sweaters were prized. Packages had to mailed in mid-September to arrive for Christmas.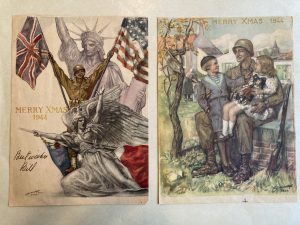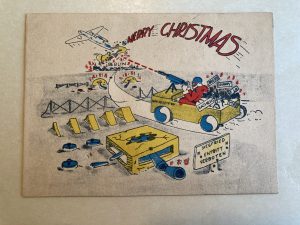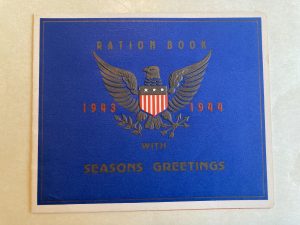 These reminders from or to home were important to the men. Not only did they provide some sense of holiday spirit, but they reminded them of why they were fighting—to preserve a way of life at home. They were willing to sacrifice their wartime Christmases–and perhaps all future Christmases as well–so that in the future peacetime, Christmas could occur in freedom.