16 Dec

When Schools Went To War

A recent donation to the National D-Day Memorial brings to mind an often-neglected aspect of WWII history on the American home front: the emphasis on encouraging support for the war among school children. A few months after Pearl Harbor launched America into WWII, a federal program titled "Schools At War" was initiated with the expressed purpose to funding the military and raising morale among the public—especially the youngest of the public.

The new document, fragile and yellowed, is titled "3 War Bond Singing Games for Elementary Classrooms, Summer Camps, Playground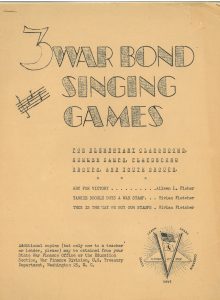 Groups, and Youth Groups." Typewritten on mimeographed paper, the 12-page resource for teachers offered three songs/ short dramas to be presented at assemblies, probably before proud parents: "ABCs for Victory," "Yankee Doodle Buys a War Stamp," and "This is the Way We Buy our Stamps," written by Aileen Fisher and Vivian Fletcher. While perhaps not great theater, the songs no doubt accomplished their purpose: encouraging kids (and parents) to buy war stamps and war bonds.
A sample of the lyrics: "This is the way we win the war/ win the war/ win the war! This is the way we win the war: we do it with our savings!
"Our War Bonds buy and Ambulance/ Ambulance/ Ambulance. Our War Bonds buy an Ambulance–to help a man who's fighting!" Effective, if perhaps not quite Cole Porter.
Distributing "3 War Bond Singing Games" was the US Treasury Department, through the "Schools At War" program. The document is undated, but likely issued late 1942 or 1943.
"Schools at War" was established in September 1942 to unify 30 million American students into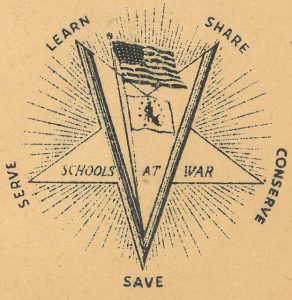 an army working in small ways for victory. In a radio broadcast to inaugurate the program, first lady Eleanor Roosevelt challenged the children of America to do their part to help strengthen their nation:
"…some of you young people, while not today fighting, driving tanks, or carrying guns, or throwing hand grenades, may very soon be doing that kind of fighting. And you will be glad that you have behind you the men and women and the schoolchildren of this country, because you will know that they are with you in a fight for freedom… Good luck to you all and my congratulations on the work which the school children of America can do."
President Roosevelt had also appealed to this type of unity in his very first radio address to the nation after Pearl Harbor, on Dec. 9, 1941:
"We are now in this war. We are all in it- all the way. Every single man, woman, and child is a partner in the most tremendous undertaking of our American history (emphasis added). We must share together the bad news and the good news, the defeats and the victories—the changing fortunes of war."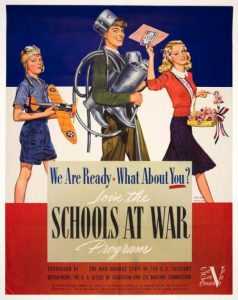 Given such calls, it's not surprising that the idea of "Schools at War" would be promulgated. No nation had ever fought a war such as this, and no one yet knew what it would take to achieve victory—or even, at that point in time, if victory was possible.
To modern ears, "3 War Bond Singing Games" and the entire Schools at War system may seem harsh and propagandistic. There were certainly parents who hoped to insulate their children from the horrors of war, just as there are today. But there seemed to be little if any opposition to the idea of Schools at War. And if it all seems propagandistic, it's because it was. Propaganda, in support of the war effort, was exactly the point. Our society today may not be comfortable with such a thing, but in the early 1940s, in the midst of a desperate war against tyranny, where the very survival of the free world was theoretically at stake, the idea of drawing children into the war effort, collecting their nickels and dimes to fund it, and preparing them in case the war extended into their adulthood, was accepted by parents, kids, and teachers alike. It was, after all, a different world.
Ultimately, of course, the United States was victorious in World War II. It would be difficult to make the argument that "Schools at War," much less sing-song skits about war stamps, were decisive in victory. But they were a part of it, and deserve to be remembered.