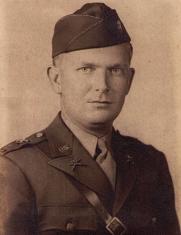 Before his death in 2009, Elisha "Ray" Nance, the last surviving officer of the "Bedford Boys" –Co. A, 116th Regiment, 29th Division—penned an account of his experiences before and after WWII. He intended to publish his book, but never achieved that dream. Now his children have published his fascinating memoir under the title "Dawn on Omaha Beach: We Were There."
A book launch will be held Friday, October 26, 2018 at 1:00 p.m. at the National D-Day Memorial's Johnson Pavilion. Members of the Nance family will be on hand to discuss the book—which follows Nance's military career from enlisting in the pre-war Virginia National Guard, to his company's arrival to England, to their fateful role played on D-Day.
Company A was decimated in the first wave of the invasion and Nance's hometown of Bedford had the highest per capita loss in the U.S. on D-Day. In addition to his insightful and detailed recollections of the war, "Dawn on Omaha Beach" includes important and never-before-published biographical sketches of some of his brothers-in-arms.
"This book is an important first-hand account of truly remarkable men who made—and changed—history," said April Cheek-Messier, National D-Day Memorial Foundation. "Ray Nance witnessed history, and now his voice speaks to us from across the years."
Copies of the book will be available for purchase is the Memorial's on-site gift store for $19.95.