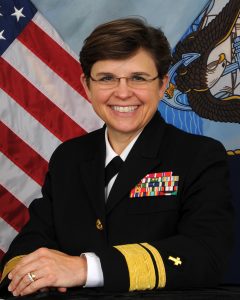 Rear Adm. Margaret Kibben
Rear Adm. Margaret Kibben served as the 26th Chief of Chaplains for the United States Navy. Formerly the 18th Chaplain of the United States Marine Corps (CHMC) and the Deputy Chief of Chaplains of the United States Navy, Kibben was the first woman to hold each office.
Kibben, a native of Warrington, Pennsylvania, entered active duty in 1986 through the Navy's Theological Student Program.  She earned a Bachelor of Arts from Goucher College, Towson, Maryland and Master of Divinity and Doctor of Ministry from Princeton Theological Seminary, Princeton, New Jersey, and a Master's in National Security and Strategic Studies from the Naval War College, Newport, Rhode Island.
Kibben's Navy assignments included the U.S. Naval Academy, Annapolis, Maryland; the Chaplain Corps Resource Board, Norfolk, Virginia; command chaplain aboard USS San Diego (AFS 6); and fleet chaplain, U. S. 3rd Fleet.  Kibben served as the command chaplain, responsible for religious ministry to Combined Forces Command Afghanistan.
With the U.S. Marine Corps, Kibben served at Marine Corps Base Quantico, Virginia; as chaplain to Headquarters and Service Battalion, Security Battalion, the Brig, Marine Corps Air Facility and HMX-1.  She also served with the Marines of Second Force Service Support Group Camp Lejeune, North Carolina, deploying to Turkey and Norway.  Later she was assigned to the Marine Corps Combat Development Command in Quantico as the doctrine writer for Religious Ministry.
In her final active duty assignment in the Navy, Kibben, was the U.S. Navy's 26th Chief Chaplains, serving as the director of religious ministry for the Department of the Navy, advising the Secretary of the Navy, the Chief of Naval Operations, Commandant of the Marine Corps, and Commandant of the Coast Guard on all matters pertaining to religion in their respective services.   Prior to this assignment, Kibben served as the 18th chaplain of the Marine Corps and deputy Chief of Chaplains.
Kibben's personal awards include the Distinguished Service Medal, Legion of Merit (two awards), Bronze Star, Meritorious Service Medal (three awards), and Navy Commendation Medal (three awards).