This September 2nd marks the official 75th anniversary of the end of World War II. To pay remembrance, the Memorial will place thousands of red poppies alongside the sculpture, Le Monument Aux Morts as a visual tribute to the men and women who gave their all to preserve the freedoms we enjoy today.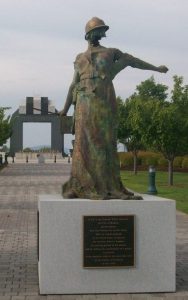 Help us honor our fallen by purchasing a poppy for the Memorial's Poppy Peace Garden in remembrance of the war's end and to all those who served to make freedom a reality.
One red poppy for every fatality on D-Day, 4,415 in all, will line the sides of the sculpture. The poppies will be on display September 2-13, 2020 as we also commemorate the anniversary of 9/11 and the first responders who gave their all to protect others.
Your purchase of a poppy not only supports the Memorial but can be in honor or memory of an active service member, veteran, or a frontline worker who has served or is currently serving.
A single poppy is $25 or purchase 5 poppies for $100. All gifts are tax-deductible, and all proceeds benefit National D-Day Memorial operations and programming.
The names of tributes received by August 28, 2020 will be included in the program.
Visitors may view the display during normal operating hours, 10AM –  5PM, September 2-13, 2020. Regular admission fees apply.