22 Dec

Statement on the Passing of Capt. Jerry Yellin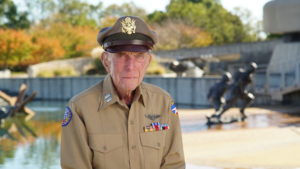 The staff, board, and volunteers of the National D-Day Memorial Foundation mourn the loss of our beloved friend and ardent supporter Captain Jerry Yellin.
This past June 6, Capt. Yellin delivered the keynote address at the Memorial's commemoration of the 73rd anniversary of D-Day. One of the nation's best-known World War II veterans, Yellin shared his harrowing story of having flown the final combat mission of WWII, in which his wingman became the final American to die in battle during the war.
Moved by his visit in June, Yellin became further involved with the Memorial and its mission. In September, he raised the flag to open the National D-Day Memorial Golf Classic and played as a celebrity guest golfer. One of Yellin's final interviews was recorded at the National D-Day Memorial in October, as he joined the Memorial's capital campaign as honorary Chair.
"We gave our lives in World War II so that we can have freedom, freedom for our country and freedom in the world," said Yellin. "Every American should come and see this memorial, to see what we did in my generation so that your generation could live as free Americans. We fought for freedom, but we live for peace."
"We are deeply saddened by the loss of Jerry Yellin. He was not only a dear friend, but a tireless advocate for veterans who believed in educating our youth about the lessons and legacy of WWII," said April Cheek-Messier, National D-Day Memorial Foundation President. "He loved the National D-Day Memorial and was working diligently with us as Co-Chair of our capital campaign to build the future education center. He will be remembered as the hero he was, and honored for the inspiring message he imparted to all. Fly high Jerry. We will miss you."
Though famous for his role in the war, Yellin often said he was just one of more than 16 million young Americans willing to fight for freedom in WWII. Yellin's message and dedication to his fellow veterans will live on through his books, speeches, and interviews.
Everyone at the Foundation offers our deepest condolences to Capt. Yellin's family and many friends.