17 Aug

Statement on the Passing of James Vest
The staff, board, and volunteers of the National D-Day Memorial Foundation are deeply saddened by the loss of James Vest, a former Chairman of the Board of Directors for the National D-Day Memorial Foundation.
"Mr. Vest continually gave back to his community and never shied away from challenges," said April Cheek-Messier, Foundation president. "He served in this role with the utmost integrity and perseverance. Those of us who knew him at the Memorial were honored to have worked with him over the years. His sense of philanthropy, duty, and simple kindness will be sorely missed.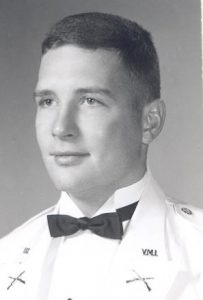 Vest was a 1962 graduate of the Virginia Military Institute and served two years on active duty in the United States Infantry. Fittingly, he returned from active duty and became company commander of A Company 116th Infantry, "The Bedford Boys." Vest served on Bedford's Town and City Council for more than 22 years and was chairman of the Memorial's board during a critical time for the Foundation. He led the organization through a period of financial difficulty and helped place the Foundation on firmer financial footing during his time on the board.
We extended our deepest condolences to the Vest family.