The National D-Day Memorial Foundation expanded the brick campaign within Stettinius Parade to create The Annie J. Bronson Veterans Memorial Walk.
The inscribed bricks are a permanent tribute to men and women who have served in the Armed Forces of the United States.  These lasting tributes are not limited to service in World War II and can encompass any service period.  Placed prominently on the Memorial grounds, they will be viewed by thousands of visitors each year.  The placement of each brick is not only an investment in the legacy of a loved one but also an investment in the future of the Memorial.  Proceeds from the brick campaign will assist the Foundation in maintaining the Memorial for many years to come.  At a cost of $250 each, the bricks are an affordable way to give permanent veteran recognition at the National D-Day Memorial.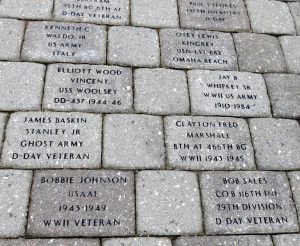 Click here to print a brochure.
Gold Star Brick Garden brochure. (Please see qualification below.)
Gold Star Garden bricks are reserved ONLY for the remembrance of individuals who lost their lives in service to United States in one of the following ways:
-During World War I, World War II, or during any subsequent period of armed hostilities in which the United States was engaged before July 1, 1958
-After June 30, 1958 while engaged in an action against an enemy of the United States; while engaged in military operations involving conflict with an opposing foreign force; while serving with friendly foreign forces engaged in an armed conflict in which the United States is/was not a belligerent party against an opposing armed force
-After March 28, 1973, as a result of an international terrorist attack against the United States or a foreign nation friendly to the United States, recognized as such an attack by the Secretary of Defense; or military operations while serving outside the United States (including the commonwealths, territories, and possessions of the United States) as part of a peacekeeping force.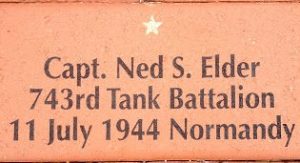 Please carefully and accurately print your information on the form and return it to the Foundation.  Bricks dedications are held twice a year, on Memorial Day and Veterans Day.  Please order soon to reserve a space for the next installment.  Due to logistical concerns, please allow us to choose the exact location of your brick within the walk.
Brick sponsorships are 100% tax-deductible in accordance with IRS regulations.